Lahey Family Fun Park, Inc.
The Best Family-Friendly Amusement Park in PA!
Lahey Family Fun Park offers numerous activities, perfect for groups of all ages and sizes. Bringing your family to Lahey Family Fun Park ensures that everyone will have a great time!
Go-Kart Track!
Our Super Track has twenty, high-powered Go-Karts, including four two-seaters which children under 12 ride free when accompanied by an adult. A quarter-mile, twenty-five-foot wide, all concrete track with awesome hairpin turns gives these Karts plenty of room to run.
Two bridges add an over-and-under thrill to this great racing experience. And a remote kart control system ensures the latest in track safety. If you like Go-Karts, you'll love this track!
Miniature Golf!
Thirty-six holes of the finest miniature golf ever constructed. You've never seen anything like it. Over two and a half acres of magnificent miniature golf on a hill overlooking the Lackawanna Valley.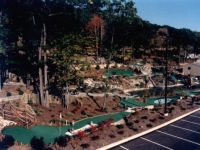 Average hole length is forty feet, with large greens and fairways. The entire course is built in a wooded area. Many of the original trees have been left standing to create an outdoor setting that's both beautiful and relaxing.
Five large waterfalls crown the entire length of the playing area forty feet above the base level. They feed seven fast-flowing streams which wind through both courses. Three large ponds at the base of the courses add the finishing touches to this perfect setting for a fun and interesting round of miniature golf.
Batting Cages!
Nine, state-of-the-art batting cages provide a complete range of batting practice or just plain hitting fun. Everything from slow pitch softball to seventy mile per hour regular baseball. The hitter has complete control of the pitching machines and selects the speed and height of the pitch. Anywhere from right down the middle to a high or low pitch. A super sized batting cage 145 feet deep 50 feet high and 134 feet wide lets the player see what they hit. There is no guessing. The player knows exactly where the ball is going.
Bumper Boats!
Bumper boats are great fun. Kids love them. Teenagers love them. And for young families, it's a ride that can be enjoyed by everyone. The fun is in bumping, so no special skills are required to have a great time.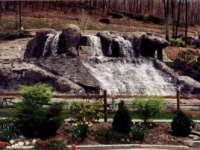 Soft Play!
For children under 12 we have a large soft playground where they can climb and play to their heart's content. The playground features a new hanging trolley ride and a 3-level tube slide which kids love. It's both great fun and good exercise.
Arcade!
The arcade has many exciting video and redemption games. Players can wins prizes, ranging from fun trinkets to bicycles and personal color TV sets. A full snack bar with a comfortable indoor seating area and outdoor picnic tables provides delicious pizza, ice cream, hot dogs,french fries, soda and all the other snacks kids love.
Groups!
Lahey is NEPA's #1 fun park for camps and groups. Choose from packages ranging from discounts on a single attraction to unlimited use of all attractions. BBQ and other meal options also available.

Minimum requirement of 20 ppl.
Birthday Parties!
Come see why we call them Hassle-Free parties! We provide a private room with all the necessities– cups, plates, spoons, napkins, decorations, etc. During the summer months, we also have an outdoor patio which can be used for your party. We provide a hostess who will greet and serve your guests and guide you through the party activities.
Minimum requirement of 10 guests.
Fore more information visit our website and 'Like' us on Facebook!