Historic Crystal Cave
PA's Greatest Natural Wonder!
Discover the exciting beauty of Historic Crystal Cave. Found accidentally in 1871 and open to the public shortly thereafter, Historic Crystal Cave is Pennsylvania's first show cave. Your 55-minute guided tour begins with an educational movie presentation about the formation of caves and the history of Historic Crystal Cave. Guides will lead you into a dazzling display of crystal magnificence carved slowly by nature. The cave's fascinating beauty has delighted millions of tourists for over 140 years. The trip becomes an exciting experience for the whole family to enjoy and a pleasant memory.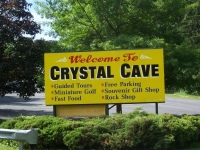 Other attractions to see at Crystal Cave at no additional charge include a historical exhibit, an authentic Amish Buggy and Indian Totem Poles and shaded picnic park, all on 150 scenic acres. Other activities include panning for gemstones, miniature golf and gift and souvenir buildings featuring rocks from around the world. The Ice Cream Parlor, Café at Crystal Cave serving fast food and Dutch Specialties and The Museum at Crystal Cave are open seasonally.

Historic Crystal Cave is a great field trip destination. Organized groups are welcome and receive special discounted admission rates when coming with 15 people or more. Reservations for group admission are recommended.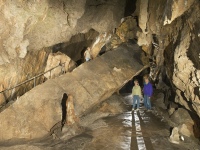 Historic Crystal Cave is open daily from March 1st through November 30th, 9 a.m. to 5 p.m., with extended summer hours. Crystal Cave is located midway between Reading and Allentown in the heart of Pennsylvania Dutch Country.
Call 610-683-6765 for information and directions and 'Like' them on Facebook!

963 Crystal Cave Road, Kutztown, PA, 19530